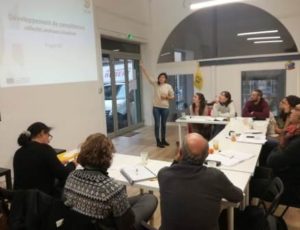 The pilot phase was launched in Greece, France and Italy with national workshops, wheras in Germany and Austria, the opening workshops will be held in January 2019.
Each VIC partner will involve ten or more adult educators that will take part in the national workshops and in the subsequent e-learning phase. They will then implement their newly acquired knowledge in national learning projects that will involve refugees and migrants. The purpose of the piloting phase is to verifiy whether the VIC approach and blended learning course actually support the adult educators to plan, deliver and evaluate innovative integration learning activities and eventually to validate the integration competences developed in these learning offers.
The piloting phase will be documented by means of national reports that each partner will set up on the basis of the feedback gathered from the involved participants.