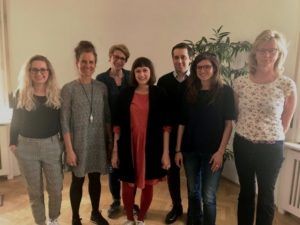 On 10./11. of April, the VIC partners met in Vienna and started developing the competence framework based on LEVEL5 for assessing and validating refugees' competences related to the integration process.
According to the idea that all citizens shall be equipped with a number of competences to be able to live peacefully together in a diverse society the VIC partners set up a repository of competences. These are among others:
Networking
Communication
Intercultural competences
Flexibility
Collaboration for living and learning in a diverse society
Social engagement
Resilience
Willingness to learn
Critical thinking
Trust/reliability
Problem solving
Productive autonomy
For each of these sub-competences the VIC partners will develop reference systems to support learning and validation and will establish a catalogue of appropriate assessment methods based on these systems.